Chandeliers, meeting room and dining room: inside the luxurious suite where Trump is treated
The luxury suite hotel  is the hospital that houses Donald Trump after he exhibited symptoms of the coronavirus. The Walter Reed Military Hospital, where White House spokeswoman Kylie McKenney said the president will be spending "a few days", is the world's largest military hospital. Just over 14 miles from the White House in Bethesda, Maryland, the president will remain in the hospital's presidential suite often referred to as Ward 71, the Telegraph reported.
U.S president Trump isn't staying in any old hospital room. Walter Reed Hospital has a six-room presidential suite just for the commander in chief that includes an intensive care unit, a kitchen, a living room, a bedroom, & a dining room with a crystal chandelier on his tweeter,said Richard Southern.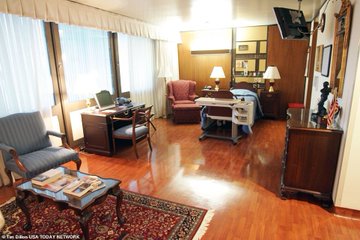 The suite is one of six special rooms for senior military patients and members of the White House. Here, Trump is cared for by some of the roughly 7,000 medical staff, including the nation's most prominent doctors. The Presidential Suite, which is run by the White House rather than the Department of Defense, includes an intensive care unit, bedroom, and secure meeting room, according to WRC-TV.
It is even believed that the president's chief of staff, Mark Meadows, will have his personal space there, while among its features is a crystal chandelier in the center of the dining room. The suite where Trump lives was renovated in 2011 when the National Medical Naval Center and the military hospital merged.
The hospital, known as the "National Medical Center", has already been engraved in the memory of Americans as he performed the polyps removal operation of former US President Ronald Reagan, which was located during a routine examination.
"The White House is fully committed to providing transparent and regular information on the president's condition and recovery," White House spokeswoman Jude Derry said in a statement.