LARCO: mobilization for the strike to secure jobs

"Hands off LARCO" is the message sent by LARCO strikers to the strike rally that took place today in front of the Larymna factory. At the end of the protest, the strikers issued the following resolution: "Today's strike rally condemns the government's policy to end Operation LARCO and lay off workers. The government, without any guarantee as to its productive character, the maintenance of its functioning, its jobs and the rights of workers, dares to walk in its sale.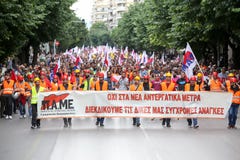 Eighty workers have died from the work they do, hundreds more from occupational diseases, hundreds more crippled by accidents at work in this place and with our blood and sweat we have created and kept LARCO open to this day.
"We are here to express our opposition to the plans to dismantle LARCO, to dismantle the whole region. We are here today to unite our voice, to express our solidarity with the workers of LARCO, their families, the people of the region, who are paying a heavy price because of the politics and the criminal choices of the current government and all the precedents ", KKE General Secretary of the Central Committee, Dimitris Koutsoumbas, said at the LARCO workers' strike rally in Larymna. "We are not giving up, we are moving forward, we are continuing," Koutsoubas added.